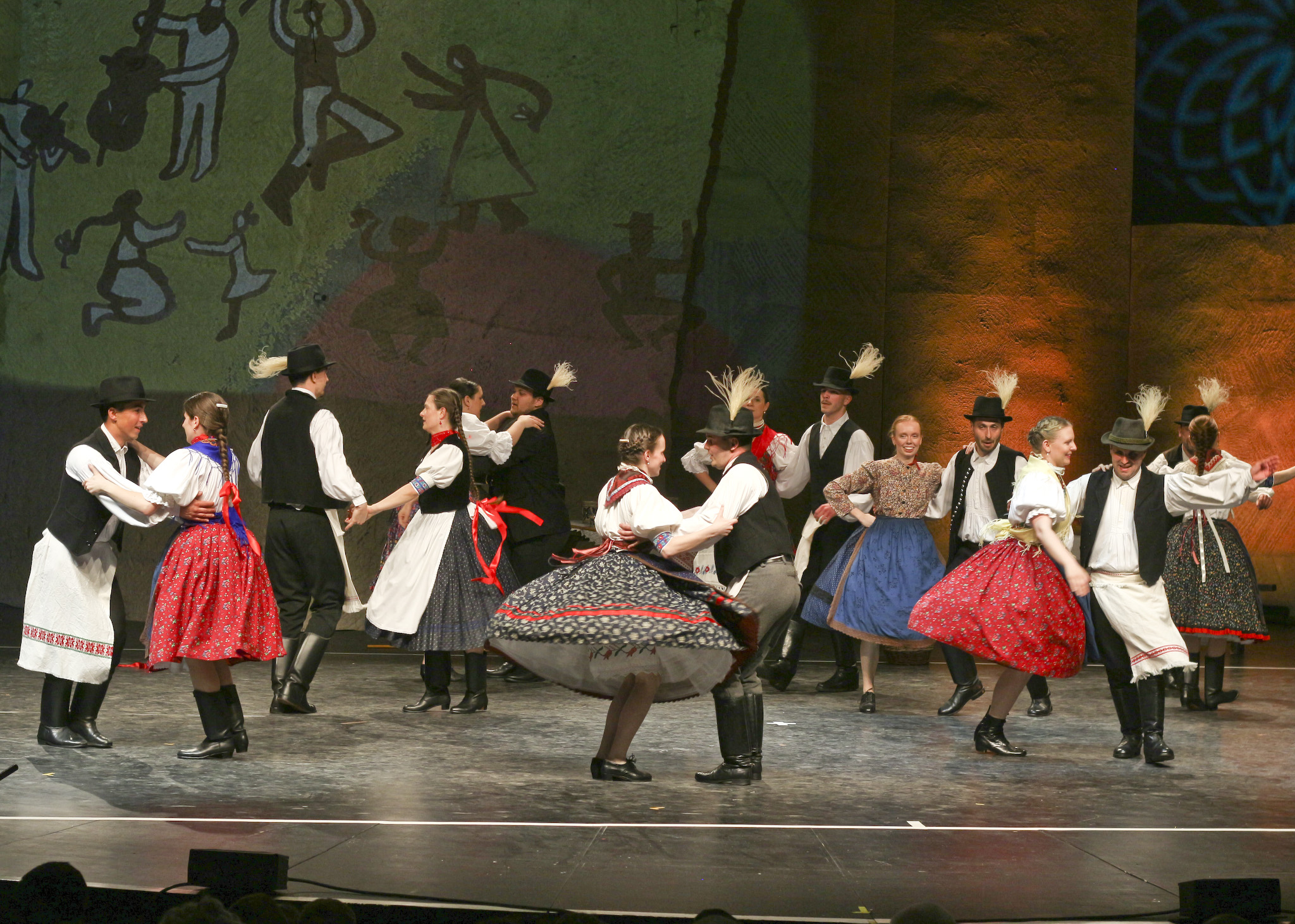 SOPRON TÁNCEGYÜTTES was founded in 1991 and it provides artistic activities for the founding members of the dance group and the dance lovers of the younger generations of Sopron. The group represents the folk dance traditions and other Hungarian preservation activities of Sopron. The members of the group are high school graduates, university students, and working young adults - whose free time is filled with folk dancing and nurturing folk traditions.
Art Director: Ferenc SiposEnsemble leader: Gergely Bolgovics
Dance team leaders: Kata Kovács and Tamás Kocsis
The main task of Sopron Táncegyüttes is to get to know the dance culture of the Hungarian people, to put it on stage, and to process the peasant traditions. Authentic dance is the basis of the group's work, during which they learn the authentic dance styles and dance materials from renowned instructors and choreographers. The dance group is maintained and sponsored by the Pendelyes Cultural Association of Sopron.
Sopron Táncegyüttes plays an active part of Sopron's public culture and cultural life: recurring actors and performers of festive programs. Regular participants at events in various areas: county, regional and national professional events. The dance group participated in international folk dance festivals numerous times - they visited 12 European countries.
For more than 15 years, the ensemble has been regularly traveling to the Hungarian regions beyond the border: Transylvania (Romania), Felvidék (Slovakia), Southern Region (Serbia). It also hosts Hungarian dance groups from beyond the border at its own events. The dance group nurtures relationships with the Wesole Nutki dance group of Zory, Poland.
The dance group enriches the cultural life of the city with its independently organized events: dance theater performances, dance halls, workshops, camps, concerts, exhibitions, conferences, folk dance competitions and folk dance festivals.
Awards: In 2012 the dance group won the PRO SOPRON MEMORIAL MEDAL. In 2016 it was awarded the CIVITAS FIDELISSIMA Memorial Medal. In 2017 Sopron Táncegyüttes received the "BONIS BONA - The Nation's Talents" award for the organization's outstanding talent nurturing activities.
The dance group's repertoire includes dances from the Hungarian and nationalities of the Carpathian Basin in stage choreographies created by renowned choreographers. Girls' dances, men's dances and couple dances appear in the choreographies, and in the programs edited by the ensemble.
Sopron Táncegyüttes collaborates with the Fajkusz Band in the implementation of its shows - they help the dance group with musical arrangements, choreography accompaniment, and music composition.