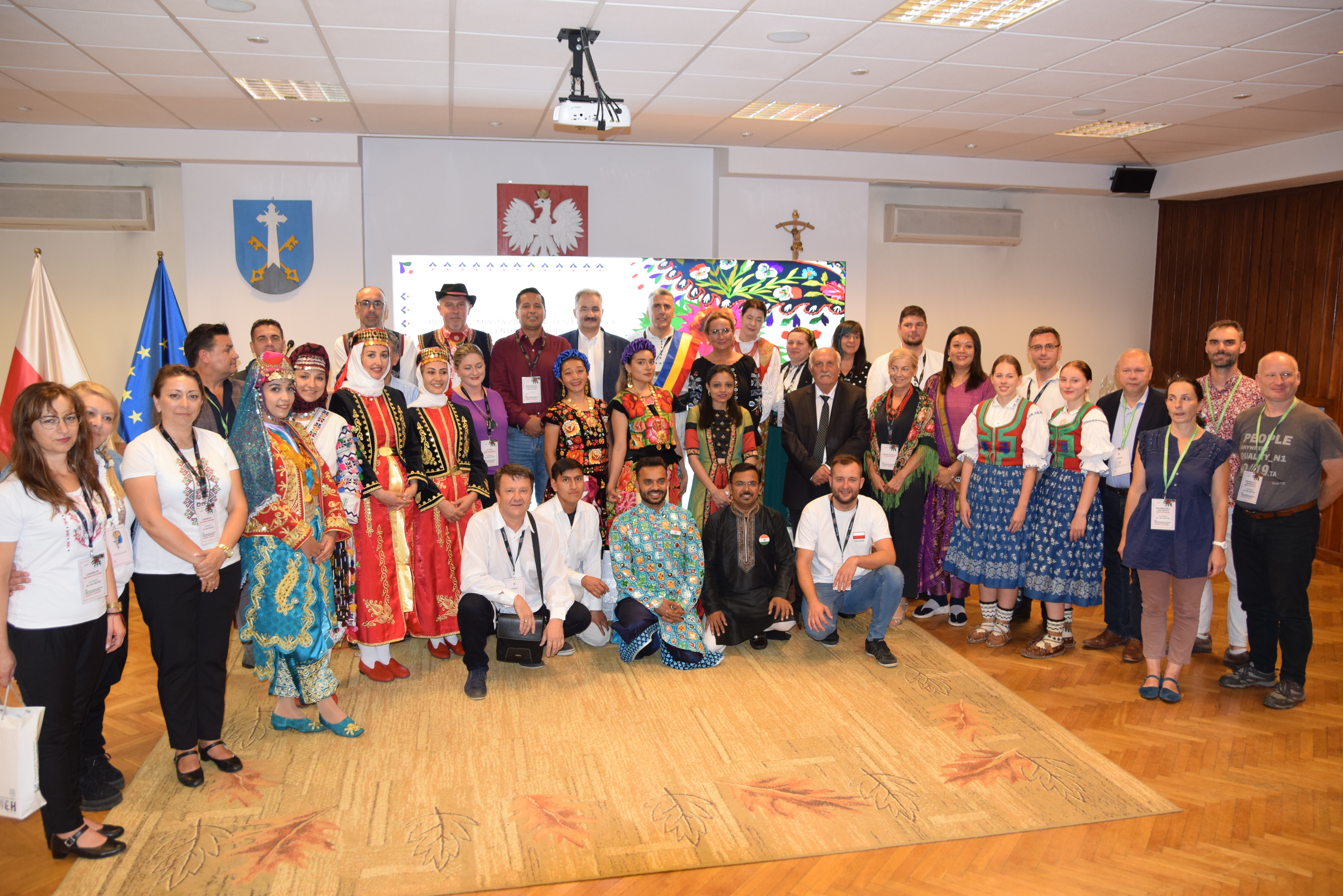 Two significant meetings took place at the Zakopane City Hall on Monday.
The first was to officially welcome the participants of the 53rd International Festival of Highland Folklore. All the participants were greeted by the city authorities. The official welcome meetings are a perfect opportunity for the Organizers of the Festival to meet personally with the singers, musicians, performers, dancers, and all the talents who honored the citizens with a visit to Zakopane this year. It was a perfect time for thank you presents from the city officials. And a time for wishing the best in the upcoming competitions. The city officials at the meeting: Mayor of the City of Zakopane – Mr.Leszek Dorula, Deputy Mayor – Mrs.Agnieszka Nowak- Gąsienica, Deputy Director of Zakopane Cultural Center and Head of Artistic Affairs department – Mrs.Lidia Rosińska-Podleśny and Mrs.Hanka Rybka - the Artistic Director of the 53rd International Festival of Highland Folklore.
The other Monday meeting was to welcome the Official Jury of the 53rd International Festival of Highland Folklore. The first to speak was the Mayor of Zakopane – Mr.Leszek Dorula. He understood the difficulty of the task the jury was ahead of. He particularly appreciated the artists for their talents that make it so difficult every single year. The next to welcome the members of the jury was the Deputy Mayor Mrs.Agnieszka Nowak-Gąsienica who expressed how happy it made her feel to see the jury cooperate like one big family every year. The Artistic Director of the Festival Mrs.Hanka Rybka also had an opportunity to express how grateful she was to the Jury for playing this significant part of the Festival.
The International Festival of Highland Folklore has been organized under the Honorary Patronage of the President of the Republic of Poland Mr. Andrzej Duda and the President's Wife, Mrs. Agata Kornhauser-Duda.
The organizers of the event are the City of Zakopane, Zakopane Cultural Center
The event was co-financed by the Ministry of Culture and National Heritage from the Culture Promotion Fund - a state special-purpose fund
Main Partner – Małopolska
Festival Partners -PGNiG, LOTTO Brand
The partner of the event is the National Institute of Rural Culture and Heritage, Polskie Tatry Inc., the Association of Highlanders - Zakopane Branch, the Dr.Tytus Chałubiński Tatra Mountains Museum.
The event is under the honorary patronage of the National Center for Culture
The event is under the Scientific Patronage of the Jagiellonian University and the Pontifical University of John Paul II.
Media Patrons: POLSKIE RADIO PROGRAM PIERWSZY, RADIOWE CENTRUM KULTURY RODZIMEJ, TVP, TVP 3 , TVP KOBIETA, TVP KULTURA, TVP3 KRAKÓW, TVP 3 KATOWICE, Radio Kraków, Radio Dla Ciebie, Polska Press Grupa
Gazeta Krakowska, Dziennik Polski, Kwartalnik TATRY, Elity, Gość Niedzielny, Tygodnik Niedziela, Pismo Folkowe, Folk 24, Kultura Ludowa, Tygodnik Podhalański, 24tp, Góral Info
Kultura Podhala, Małopolska Online, Nowy Targ 24, Serwis Informacyjny Watra, Podhale24, TV Podhale, Zakopiec Info
Special thanks to: Społem Zakopane, Gama Zakopane, Top Brand