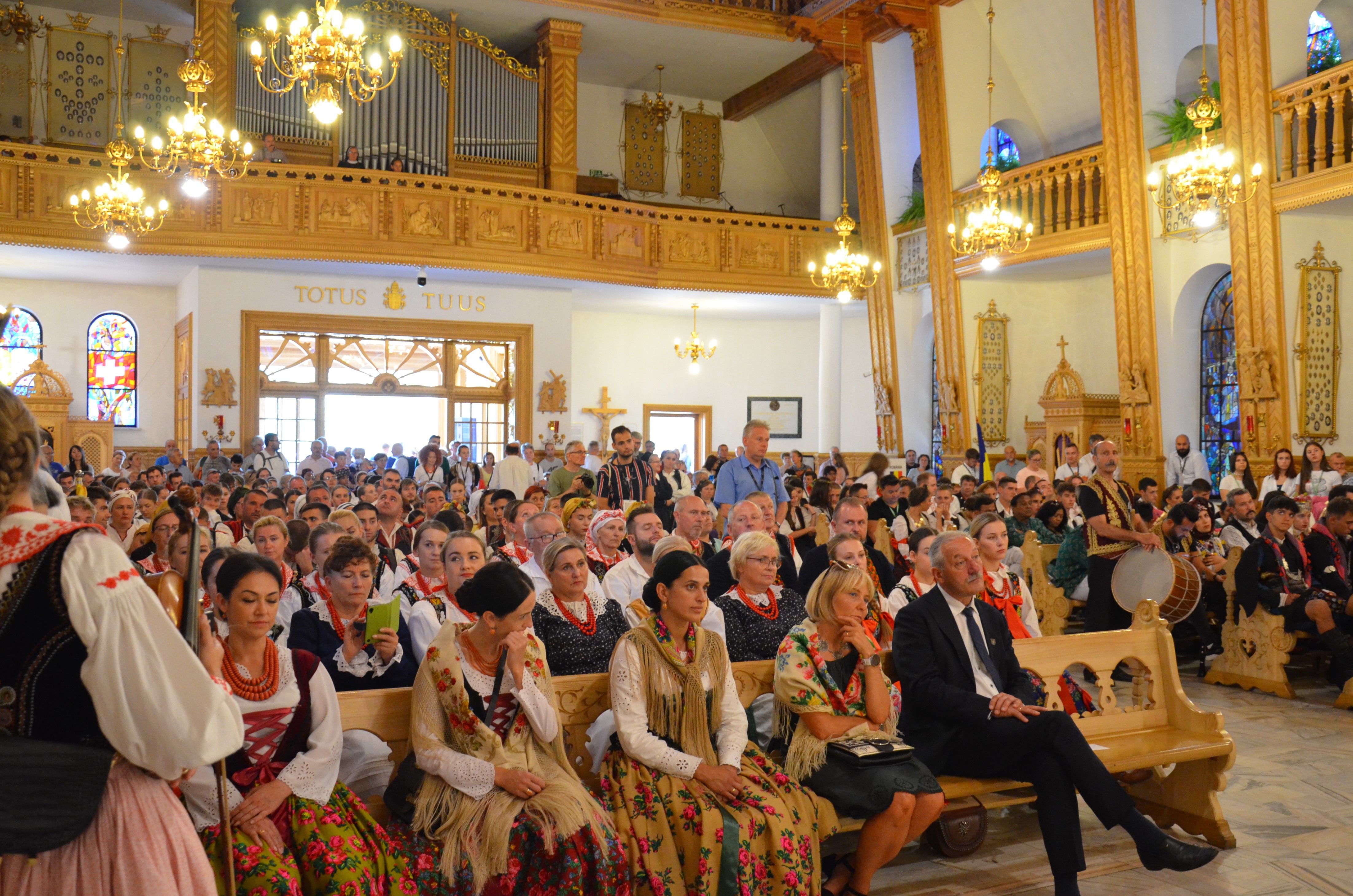 In the Sanctuary of Our Lady of Fatima in Krzeptówki, a prayer for peace was held. The ceremony was attended by all the groups who took part in the 53rd International Festival of Highland Folklore.

The groups from all over the world gathered in the Zakopane temple to pray together for peace in the world, peace in families, countries and in their own homes. The bands led the prayer together and the sanctuary filled again with traditional music. The Polish ensemble performed the 'Barka' and traditional songs dedicated to Holy Mary. The prayer was also attended by Starost Władysław Pilar and Mrs. Joanna Staszak - head of the cultural department of the city of Zakopane. At the end of the meeting, the groups presented short dance and singing shows in the church square. Each group, with great joy and energy, showed what is most beautiful in its folklore.
(JL)

The International Festival of Highland Folklore has been organized under the Honorary Patronage of the President of the Republic of Poland Mr. Andrzej Duda and the President's Wife, Mrs. Agata Kornhauser-Duda.
The organizers of the event are the City of Zakopane, Zakopane Cultural Center
The event was co-financed by the Ministry of Culture and National Heritage from the Culture Promotion Fund - a state special-purpose fund
Main Partner – Małopolska
Festival Partners -PGNiG, LOTTO Brand
The partner of the event is the National Institute of Rural Culture and Heritage, Polskie Tatry Inc., the Association of Highlanders - Zakopane Branch, the Dr.Tytus Chałubiński Tatra Mountains Museum.
The event is under the honorary patronage of the National Center for Culture
The event is under the Scientific Patronage of the Jagiellonian University and the Pontifical University of John Paul II.
Media Patrons: POLSKIE RADIO PROGRAM PIERWSZY, RADIOWE CENTRUM KULTURY RODZIMEJ, TVP, TVP 3 , TVP KOBIETA, TVP KULTURA, TVP3 KRAKÓW, TVP 3 KATOWICE, Radio Kraków, Radio Dla Ciebie, Polska Press Grupa
Gazeta Krakowska, Dziennik Polski, Kwartalnik TATRY, Elity, Gość Niedzielny, Tygodnik Niedziela, Pismo Folkowe, Folk 24, Kultura Ludowa, Tygodnik Podhalański, 24tp, Góral Info
Kultura Podhala, Małopolska Online, Nowy Targ 24, Serwis Informacyjny Watra, Podhale24, TV Podhale, Zakopiec Info
Special thanks to: Społem Zakopane, Gama Zakopane, Top Brand