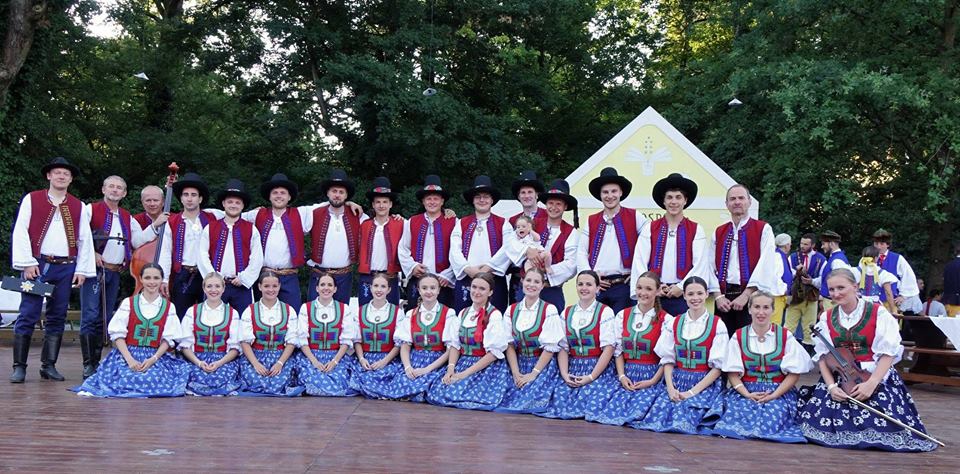 The ensemble of Valašské songs and dances VSACAN is one of the oldest amateur ensembles in the Czech Republic. For more than 65 years (founded in 1943), his activities promote and represent the Wallachian ethnographic area not only throughout the Czech Republic, but also at folklore festivals almost all over the world. It collaborates with radio, television and film.
In 1956 he was the first amateur folk ensemble in Czechoslovakia to be sent to the International Folklore Festival in England. Many years have passed since this first exit and many countries like France, Poland, Spain, Italy, Germany, Turkey, Romania, Sweden, Switzerland, Austria, Hungary, Lithuania, Portugal, Chile, etc., where VSACAN represented its homeland.
The ensemble develops its activities in the town of Vsetin and transmits the dances, singing and folk customs of the Wallachian ethnographic region to the domestic and world stages. Folk art interpreted by musicians, singers and dancers of the VSACAN ensemble originates in the folk art of the inhabitants of the mountainous region of the western part of the Carpathian Arc. The ensemble conveys this simple beauty both in its original form and in various forms of stage stylization. The VSACAN civic association consists of more than two hundred enthusiastic and heart-lighted folklorists in all ages. There is a large and sufficient guarantee of the representative representation of Vsetín, Wallachia and the Czech Republic.
The repertoire of the VSACAN ensemble consists of both rotating dances and figural dances, craftsmanship, ancient dance, solo male dance - "Odzemek", and Wallachian quad.
An indispensable part of the ensemble is beside the dancing ensemble led by Jakub Ekart and dulcimer music. Among the members of the ensemble with more than 50 years of membership is the singer Zdenika Straskrabová. Her excellent interpretation of Wallachian songs has been awarded to many festivals and competitions.
*
The Wallachian folk ensemble VSACAN belongs to the oldest amateur groups in the Czech Republic. Since its founding in 1943, it has been a great promoter of the unique Wallachian culture in Czechoslovakia, as well as an original guest of many international folklore festivals abroad. Its wide performing activities have also resulted in many programs on Czech radio, television and even in the film industry.
Decades have gone since its first international introduction at the Folk Festival in Great Britain in 1956. And many countries have been toured by its globe - trotter members such as Bulgaria, Romania, Poland, Egypt, Turkey, Lithuania, Spain, Italy, Greece , Hungary, France, Belgium, Netherlands, Sweden, Switzerland, Austria and Germany. Anywhere, the folks have always represented their country and their roots well.